Brasilian Buttocks
Brasilian Buttocks
A dedicated workout set aimed at firming and strengthening the muscles of your buttocks and thighs. Thanks to simple and effective exercises done under the coach's supervision, your buttocks will be slim and firm.

Trx
Trx
TRX workouts use the weight of your own body and a set of special adjustable straps. With TRX training you will evenly grow and strengthen your muscles without overloading your joints and spine.
Body Shape
Body Shape
A workout focusing primarily on strengthening your muscles and improving overall fitness. Body Shape is the classes for people on any level. Discover the joy offered by fitness classes with us!

City Pump
City Pump
Activity for women and men using specialist weight bars. Weight change adapted to particular muscle groups and individual participant's strength. A combination of endurance and strength-building exercises offers the effect of continued body fat burning even up to 12 hours following the workout!

Flat Belly
Flat Belly
A compact exercise package for your belly and buttock muscles, closed with a relaxing stretching session. The motto of this class is a high-intensity workout with low load (your body weight or light weights). If you dream of a flat belly this workout is great for you!

Tbc
Tbc
Variety of aerobics which shapes your whole body. Effectiveness of TBC relies on multiple repetitions of the same movement. It is excellent for shaping your buttocks, hips, thighs, arms, abdomen and bust. One-hour long class ends with a short stretching session, which gently relaxes and calms your body down.
Multiworkout
Multiworkout
Strengthen your back and abdomen, reshape your legs, buttocks and arms. Improve your posture. Learn correct and safe techniques of doing exercise. Full body workout with barbells, dumbbells and resistance bands. Classes for women and men at different levels, including beginners.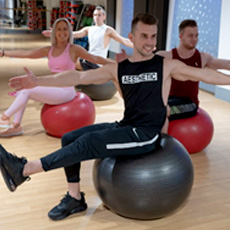 Fit Ball
Fit Ball
Training on a large gymnastic ball involving all muscle groups. Excellent results are achieved thanks to the unstable surface of the ball, which forces you to search for body balance. Training with the ball is a combination of the effect of strengthening the muscles, correcting, stabilizing and relieving the joints and the spine. The aim of the classes is to strengthen the deep muscles responsible for the straightened figure. The aim of these classes is to improve motor coordination, improve joint mobility, increase physical condition, and improve basic cardiovascular and respiratory efficiency.
Mini Bands Workout
Mini Bands Workout
A workout of the whole body using specialist, short exercise rubber bands enabling to activate muscles of all body parts. The classes addressed to anyone looking for a specialist workout focused on figure modelling.
Cellulite Killer
Cellulite Killer
Designed to prevent and manage uneven distribution of subcutaneous fat. Focuses on body areas where the risk of developing orange peel skin is the highest: thighs, buttocks, abdomen and arms. With this workout, you burn your calories and strengthen your muscles at the same time.
Circuit Training
Circuit Training
A comprehensive workout routine to improve general fitness, agility and strength while effectively reducing subcutaneous fat. Each station in the circuit involves exercising a different muscle group.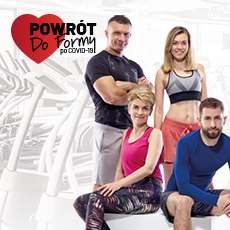 The "Recovery after Covid 19" classes are classes for people who have had COVID 19, but also for those who want to regain their form after the last lockdown. Their goal is to gradually restore the appropriate level of physical condition in a controlled and supervised manner by a qualified trainer.
Top In The City
Top In The City
Workout classes focused on strengthening, shaping and sculpting mainly the upper body parts.
The warm-up is followed by a comprehensive set of exercises to model the muscles of the upper limbs, chest and back.
Classes for everyone at all levels.


Piloxing®
Piloxing®
Piloxing is a combination of dance, kick-boxing and standing pilates exercise. The creator of this form of exercise, Swedish-born Viveca Jensen, describes it as a recipe for a beautiful slender body and a spiritual balance therapy.