To avoid injury, warm up the muscles before training.
Cardio
5 minutes on any cardio device
Arm circles (forward and backward)
Forward x 20, backward x 20
Arm swings
Forward and backward x 20 – keep arms at shoulder height
Hip circles
In each direction x 10 - hands on your hips
Lunges on the spot
Perform 20 (10 to the right and 10 to the left) shallow lunges on the spot with your hands on your hips
Leg swings
Put your hands against the wall and perform 10 swings with your leg forward-backward, then the same to the side
Calf raises
Perform 20 calf raises
Run on the spot
Warm up running on the spot for 30s
You can do all the exercises in the Functional Training Zone.
You make three sets. One set is all exercises done without a break in a row.
The interval between sets is 4 minutes.
repetitions*
10
per each leg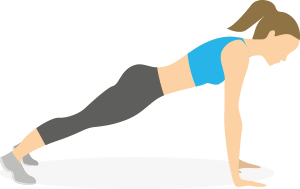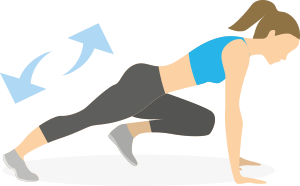 Pass the fitness ball from your feet to your hands (while lying down)
Important: training plans are general, everyone can adapt them to their needs and abilities.
Stay in each position for 30-60s breathing deeply and rhythmically.
Calf
Place your foot on the step so that the heel is out of it and press your heel into the ground.
Rear thigh
Cross your legs and bend your torso forward. Try to touch the ground with your hands.
Front thigh
Put your hand against the wall, and with your other hand, grab your foot and pull it to your buttock.
Inner thigh
Stand with your legs wide apart (80% of the maximum) and perform a deep forward bend.
Chest
On TRX (yellow and black tapes), grasp the handles and stand in a lunge position. Lean forward strongly and spread your arms sideways to shoulder height. Deepen the lunge position for a stronger effect.
Abdomen
In the "seal" position - lying on your abdomen, lift your body up as high as possible.
Buttocks
Sit with your legs straight and place your foot on the knee of the other leg. Bend your straight leg and pull it towards you.
Spine
Kneel on the ground on all fours and make repetitive movements pushing your spine upwards towards the ceiling and downwards. Do not lift your arms and legs off the ground.