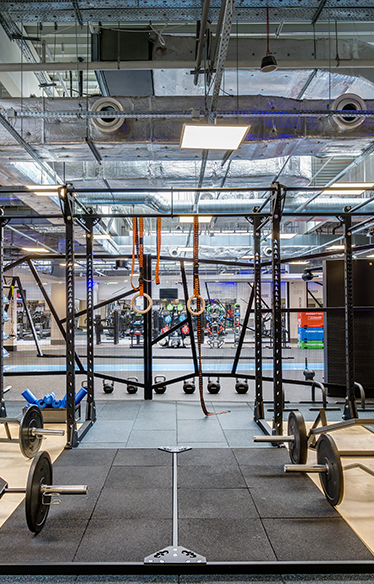 A well-equipped studio for functional workout to be done individually and in groups.
The studio is put to use for combat sports enthusiasts. A spacious interior and training devices will help both to de-stress and have a really advanced training.
A spacious studio with mirrors and all kinds of equipment required to hold even the most intensive training sessions! Each choreography will come out perfectly here!
An innovative zone, equipped with devices for comprehensive measurements of the body and monitoring the progress. The Fitquest equipment is available only in CityFit clubs.
The classes are held with a Virtual Cycling trainer. The atmosphere of taking part in a unique cycling expedition, without competition, just with a group having the same objectives, has a relaxing effect on the workout participants and encourages them to achieve even better results.
In this area you can take a rest after your workout.
A perfectly air-conditioned area for fitness classes. Equipped with devices for strength and body&mind training. In the fitness rooms typical classes with instructors are provided, such as: Zumba, Pump, TBC or Pilates. A professional sound system Bose is installed in both the rooms and the whole fitness club to ensure the best quality acoustics.
Designed for training with the use of various combat techniques, equipped with the necessary training tools such as: punch and kick bags, a device to practise punch techniques, jump-ropes and training mats.
A zone with an open area to work with the weight of your own body. Equipped with the necessary equipment to improve the motor activity of your body and stabilisation, e.g.: TRX, kinesis or escape fitness functional equipment.
A zone equipped with a full range of resistance machines with a stack dedicated to both advanced people and beginners. The equipment provides excellent ergonomics of movement and a stringent selection of weights. It is perfect for strength training and for shaping your body.
A place dedicated to those who want both strength training and those for whom endurance training is the most important. No matter how much advanced you are, you can do here multiarticular exercises such as squats, push-ups in a variety of options and chin-ups. The main advantage is space and accessories which, when used during your workout, improve the efficiency of your circulatory and respiratory systems as well as shape your body.
Dedicated to strength training, well-equipped both in terms of quality and the volume of weights (e.g. two sets of dumb-bells up to 52 kg). There are also devices such as: half-racks, weight platform, set of half-free machines for professional athletic training, Olympic benches, multi-station gate and cranes.
A zone with appropriate equipment for starting and ending your workout. The atmosphere is conducive to preparing your body to effort. It is also an ideal place for post-workout body stretching and relaxation. The zone is equipped with mats, gymnastic balls, expanders and resistance bands, hoist gate and light weights.
The zone contains a dozen or so different cardio devices in the quantity that lets you have a free access to the equipment: from typical steppers up to modern multi-faceted elliptical machines.
A zone for training using the weight and gravity of your own body in the training technique based on typical gymnastic exercises. The zone is equipped with a professional multi-station cage that meets all safety standards.